Clackamas County Arts Alliance is partnering with Clackamas County Behavioral Health on an important photography project with the goal of breaking down the stigma around suicide.
For most of us, it can feel uncomfortable to talk about suicide. It is a scary word that brings up complex feelings. This is because it has impacted so many of us, and we rarely talk about it! The unfortunate reality is that almost all of us know someone who has died by suicide, and we also know – or may even be someone – who has struggled with thoughts of suicide or survived an attempt.
While much effort has gone into reducing the number of deaths by physical illnesses, sadly the number of deaths by suicides continues to be on the rise. There is 1 death by suicide every 5 days in Clackamas County – that is 16 percent higher than the national rate. And that number is going up.
This needs to change, and we are the people who will make that change happen.
This is why we are teaming up to change the way people talk about suicide in our county – Everyone can play a role in suicide prevention. You don't need to be an expert – just a good listener. Starting a conversation can show someone who might be struggling that there is hope and they are not alone.
Asking The Question, "Are you okay?" can save lives.
Mic Crenshaw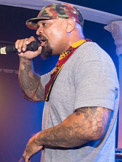 Mic Crenshaw was born and raised in Chicago and Minneapolis and currently resides in Portland Oregon. Crenshaw is an independent Hip Hop artist, respected emcee, poet, educator and activist. Crenshaw is the Lead U.S. Organizer for the African HipHop Caravan and uses Cultural Activism as a means to develop international solidarity related to Human Rights and Justice through Hip Hop and Popular Education.
In his teenage years, Crenshaw actively confronted white supremacist gangs that were a growing part of the hard-core music scene. Mic eventually moved to Portland, where he quickly became one of the most respected artists in the Northwest, and his community efforts have had both local and international impact.
In addition to his highly-acclaimed work in spoken work and Hip Hop, Mic co-founded GlobalFam, a non-profit (EducationWithOut Borders 501c3) project to create and maintain a computer center for disadvantaged youth in Burundi, Central Africa. Over 400 people have received free training, and it is now expanding, generating revenue and creating jobs. Mic also partnered with Education WithOut Borders (EWOB), which supports education, music and art initiatives in Portland and beyond and serves as an umbrella for the local Books For Prisoners chapter and GlobalFam itself.
Crenshaw was voted Portland's Best Hip Hop Artist in 2016 by Willamette Week.
Meet Julie Keefe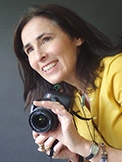 Julie Keefe is an artist with 25+ years experience working primarily in documentary and community-based art. Her work includes collaborations with a variety of institutions, artists, children and communities, including the Portland Art Museum, Coalition for a Livable Future, Oregon Historical Society, Portland State University's School of Social Work, World MUSE, Skanner News, Clackamas Behavioral Health and Caldera.
In 2008 she created Hello Neighbor in collaboration with Caldera's youth program. Hello Neighbor employs a social practice model in neighborhoods affected by change, and uses interviews and photographs to introduce children to their neighbors and ultimately neighbors to each other by displaying large-scale photographic portraits in public spaces.
From 2013 to 2017 she served as Portland's inaugural Creative Laureate, a position that uses the Office of the Mayor, and the Laureate role, as a platform to advocate for the arts, art education, equity, creative industries and practice and the overall cultural health of Portland. In 2013 Fast Company [Business+Design Magazine] named her to their annual 100 Most Creative People in Business.
[Current work includes a retrospective of work at the Oregon Historical Society,2016; Messages to a President 2016-2018;and Talk to Strangers,2015;] 
www.helloneighborproject.org
www.juliekeefe.org
503.260.5676
julie@keefeklicker.com
The Ask the Question Project was made possible by our Funders
As well as the generous support of our partners: